R- People will
REALIZE
how much blood, sweat and tears we pour into our work on a daily basis.
E-
EVEN
the parents who are doctors and lawyers will Ohh and Ahh when their daughter becomes engaged to a
TEACHER
.
S- the
STEREOTYPE
of "Those who can't teach" will blow away in the wind
P-
PARENTS
and stakeholders will hold us in the same esteem as doctors and lawyers (I guess I'm on a doctor/lawyer kick)
E-we will
EARN
what we deserve for the work we do
T-
TEACHERS
will learn to
RESPECT
themselves and it will become contagious!
All kidding aside some people will never respect what we do. They are convinced that we work 9-3 and go home to sip a cocktail, put our feet up and watch a sitcom. We don't need to impress anyone. We need to be strong enough of character that we radiate respect and demonstrate respect to others.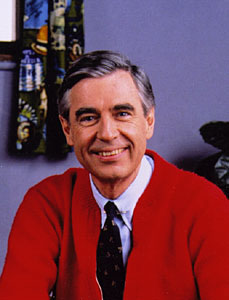 My husband heard a story about Mr. Rogers. Some teenagers thought it would be fun to steal a car. They somehow found out that the car belonged to Mr. Rogers. They returned the car to Mr. Rodgers with a note on the windshield that said "We are sorry. If we knew that it was your car, we would not have stolen it". True story or not, Mr. Rogers did not demand respect. He earned respect.
Let us live our lives and teach in such a way that we earn the respect of those around us.
I love and miss you Mr. Rogers! "It's such a good feeling"
Student Wahoo of the day!
This wahoo is not a document or technology piece but a conversation. I had the most wonderful conversation with a few of my students at recess today. I am trying to be good and walk the perimeter of the playground as the students play. A few students decided to walk and talk with me today. One of the students told me he wants me to be his teacher next year and in middle school, highschool and college. Wow! That baby doesn't know how good that made his teacher feel. That was the best teacher appreciation gift ever! I must be doing something right... (*tear*)